WELCOME TO ALL CAMARO OWNERS!

I INVITE YOU TO HAVE
A DEEP LOOK AT THE

Alain has completed several pieces for me of Camaros I currently own and have owned previously.
They are all framed in my home.  The quality is unparalleled and the attention to detail is nothing short of fantastic.

He is open to creating art that is tailored to my specific vehicles, even down to the color of brake calipers and emblems. 
He is quick to respond to questions and always makes sure to check his creations with me before printing. I wouldn't go anywhere else for something similar. Thank you!
- Jacob from Missouri
INCREDIBLE WORK
Ordered 1st to match my white Camaro IROC-Z. There is such amazing work and details in the artwork.
I decided to order another to match my dark red 89 Camaro IROC-Z.
I definitely recommend and I pass on to my groups!!!

I've been in touch with Lemireart and it's easy to get information and details that you would like to know.
So amazed with progress and set up on getting process completed. The approbation images are exactly what expected, great communication.
- Kenneth Carter from Calgary, Alberta
"I contracted Alain to create a personalized image of my 2013 Camaro ZL1 Coupe in Blue Ray Metallic along with a pencil drawing. 

Throughout the process, I received several proofs for my approval/disapproval. 

The communication with Alain exceeded my expectations. All said and done with, I received my prints. I could not be happier with the finished product. 

I give Lemireart a hearty thumbs up recommendation! A very nice tangible piece to go along with my ZL1 Camaro!
Thank you very much for the great communications and most of all, the art you created... Outstanding!"
- Lawrence from Arizona"
"OMG!
That look badass!
It's so much better than I ever imagine! You are amazing! Love the result!"
- Stephanie from Texas
"Color looks amazing! It looks really good though. Thank you so much!

Thank you so much for the hard work and the art you create!"

- Gregory Hack from Michigan
"Seriously Alain! Wow!
Very very well done! It's a really good idea to have the car's informations on the print!"
- Frederick Dompierre from Sorel, Canada
"Alain,
I received the print! Look awesome!
Thanks a lot for doing it!"
- Hugo J. Osorio from Minnesota
"We are so happy with our Camaro print! It is on display in our living room!
Guys Alain Lemire can draw your car and personalize your drawing just for you and he does fantastic work.
for the ultimate gift have Alain Lemire from Lemireart make you a custom drawing of your car, here is the one he did for me."
- Wendy and Horton "Bud" Bane from Wisconsin
"Holy crap Alain, THAT IS GOING TO LOOK AWESOME!!!

Can't wait to get this framed and hang to my wall!!
It look absolutely amazing Alain!"

- Scott Ritcey from Nova Scotia, Canada
"It's a fantastic rendering matter of fact I can't wait to frame it!
The artwork of my car looks wonderful!"
- Marco Vasquez from Texas
"Just got it!
The print looks very awesome!! I'm very happy
Thank you!!!"
- Ben Duke from California
 AUTOMOTIVE ART FOR CAMARO OWNERS & ENTHOUSIASTS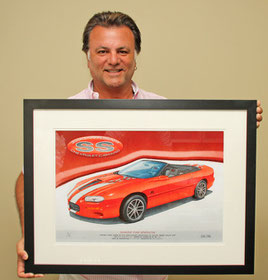 Since 2001, Lemireart.com has been offered 12"X18" limited edition prints to sport, muscle and classic car owners thru Ebay Motors.
We had a great inventory of cars as you can have a look by browsing pages on home page of the Lemireart Automotive Art Print site. All auto prints are available in all factory body and interior colors. 
We also offer a 14"X21" personalized art print with the car VIN and owner name written on the print. Personal touches like custom wheels, tire lettering changes, custom body color and stripes may also be done with extra cost.
The above picture shows a proud 2002 Camaro SS 35th anniversary special edition owner holding the framed print deliver by Lemireart. We added the SS 35th anniversary emblem to the print to customize it matching the car main features. SLP, SS and 35th production numbers were written at the bottom of the print.
It's possible to order some of those Camaro prints online right here, on this website.
SUBSCRIBE TO THE QUARTERLY LEMIREART NEWSLETTER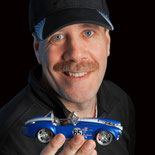 Since 2001, I have created fabulous artwork for the Lemireart Ebay Store. I also do other kinds of artworks like human portraits, landscape and wildlife art.

As a professional illustrator working for a book editor, I create approximativly 3000 digital illustrations from 1999 up to 2010. They were used in visual dictionaries and reference book and websites.

I hope to have you as a customer soon!
- Alain Lemire, CEO of Lemireart
More than 680 Ebay feedbacks
From 2001 to 2013, we're been selling limited edition prints and owner prints on Ebay.
I start back selling on Ebay in 2016 the New Generation collection of automotive art prints.

The main subject of the print were muscle, sport and classic cars.
To read Ebay feedbacks, click here.