Since 2016, the beginning of my current activity as an automotive portraitist, I had to do some orders for collectors who own a few cars.
I present you these collector's orders in detail. 
---
Collection SSS
This Texas collector has a nice mix of Camaros and Corvettes that have been built since 1969. He also has a fondness for vehicles identified with the INDY 500 race, having 2 cars, a 2008 Corvette Pace Car Replica and a 2017 Camaro "Official Vehicle". The printed drawings of the cars were made in 12X18 inch format.
Another special feature is that this collector purchased in 2014, a white C7 Corvette Stingray with brown interior, to match his 1970 Corvette Stingray which have the same body and interior colors.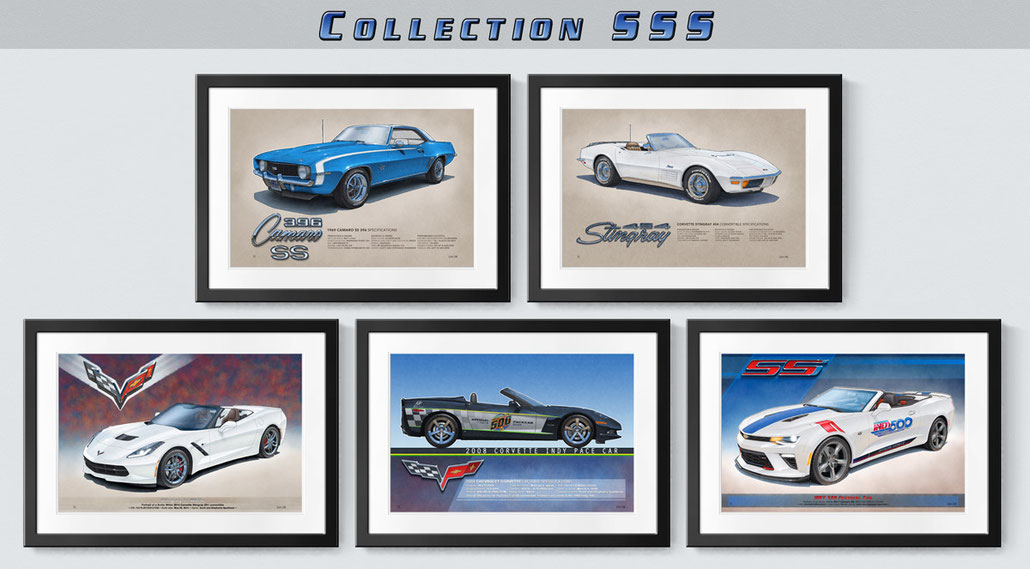 The illustrated models
- 1969 Camaro SS 396
- 1970 Corvette Stingray 454
- 2014 Corvette Stingray Z51
- 2008 Corvette Replica INDY 500 
- 2017 Camaro SS INDY 500 Official Vehicle
---
Collection VO
This collector and lover of Ford products owns a 2012 BOSS 302 and a first generation SVT Cobra produced in 1993. Having ordered the 14X21 inch format, I added a 3-column detailed specifications section on his request.
This specifications section will become standard on the 16X24 inch versions of the New Generation portrait drawings since that order.

Illustrated models
- 1993 SVT Cobra
- 2012 BOSS 302 
---
Collection NC
Lover of big American cars from the 70's, this collector from the Quebec province had his 3 luxury cars made in 14X21 inches format. Being more used to drawing muscle cars and sports cars, it opened my mind to these models that I appreciate more today when I see them in classic car shows. 
The chrome rendering is lighter than what I usually do. This was a request from the customer who found my color recipe too dark. I must admit that by paling the chrome areas, it allows a greater contrast with the body, especially for the sublime Cadillac.
Illustrated models
- 1970 Cadillac DeVille
- 1977 Lincoln Continental Mark V Cartier Edition
- 1977 Lincoln Continental Town Coupe
---
Collection BW


This collection is special in that it has 3 landmark Corvettes from the 90's and 3 Z06 models from the 3 successive generations, the 5th, 6th and 7th generations. Also included in the collection is a 2017 Camaro SS 1LE which is not present in the image below.
The printed designs of the Corvettes were done in 12X18 inch format. The tire lettering was added on the 6 printed drawings.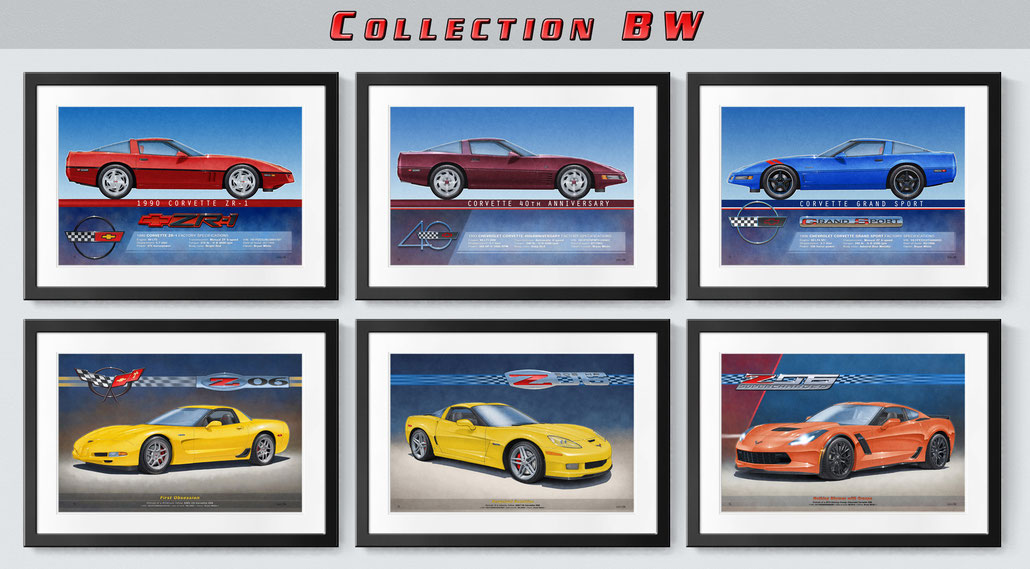 Illustrated models
- 1990 Corvette ZR-1
- 1993 Corvette 40th Anniversary
- 1996 Corvette Grand Sport
- C5 Corvette Z06
- C6 Corvette Z06
- C7 Corvette Z06
---
What to do to request a quote
For collectors interested in having their vehicles done, please contact us at info@lemireart.com with the following information
- The models and years of manufacture of the cars to be illustrated
- Photos of the models to be illustrated
- The size of the print
- The possibility of having the drawings framed if you live in the Montreal, Laval and South Shore area
- The possibility for me to take the pictures of the cars to illustrate if you are in the Montreal, Laval and South Shore and Quebec City area.