PORTFOLIO: MUSTANG 1964-1973
A MUSTANG ILLUSTRATIONS SERIE FOR AN ARTICLE THAT RECAP THE FIRST 10 YEARS OF AMERICA'S FAVORITE PONY CAR
All the following illustrations were produced to appear in an article that recap the first Mustang 10 years of production. The article was only in 2 pages.
It was published in 2 magazines, a Mustang club and VACM, a well known classic car club from the Montreal area.
UNE SÉRIE D'ILLUSTRATION DE MUSTANG RELATANT LES 10 PREMIÈRES ANNÉES DU "PONY CAR" AMÉRICAIN FAVORI.
Toutes les illustrations de la galerie suivante furent réalisées afin d'illustrer un article relatant les 10 premières années de production de la Ford Mustang.
L'article tenait sur seulement 2 pages. Il fut publié dans 2 revues, celle de Montréal Mustang et celle du VACM, un club de voitures anciennes de la région de Montréal.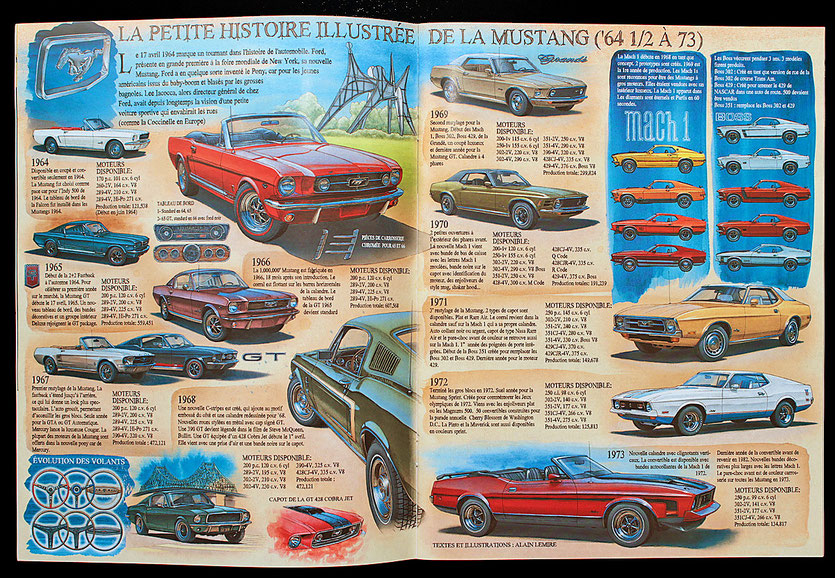 The drawings were done using pencil lead and was colored using the Corel Painter software well known in the illustration industry. A screenshot of the software is visible down here.
The use of a color palette was done to give the tires and chrome colors a uniform look.
A SCREENSHOT OF COREL PAINTER
Les dessins furent réalisés au crayon de plomb et colorés à l'aide du logiciel Painter de Corel. Une capture d'écran du logiciel est visible ci-dessous.
Une palette de couleurs a été montée afin d'avoir des couleurs de chrome, de pneus, de clignotants uniformisés sur tous les dessins.


UNE CAPTURE D'ÉCRAN DE COREL PAINTER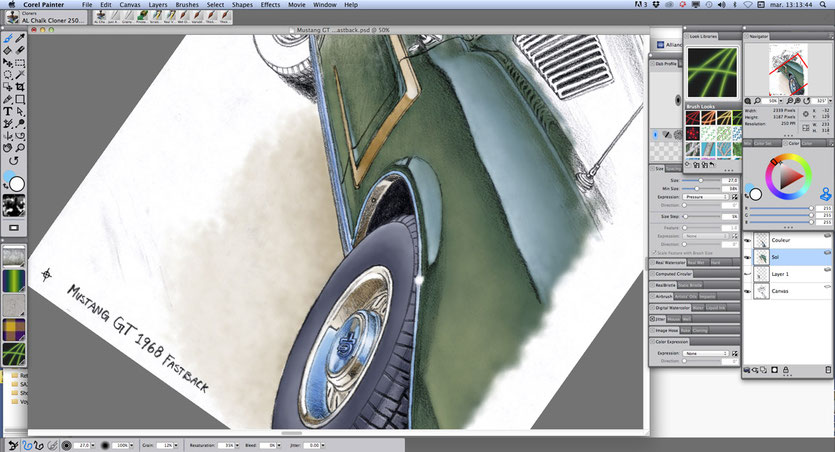 HOW IT'S DRAWN?

Most of the illustrations were drawn starting from my pictures, except for the Mustang Bullit and the 1969 Mustang Grandé that I don't have photographs to start from.
C'EST DESSINÉ COMMENT

La majorité des illustrations sont faites d'après mes photos, sauf pour celle de la Mustang Bullitt et de la Mustang Grandé 1969 dont je n'avais aucune image à reproduire.

Sometimes for the use in 2 Montreal's car club magazines, I add local elements like a sculpture from Expo 67 drawn on the '65 Mustang seen up here or the Jacques Cartier bridge on the Mustang Bullitt illustration.
Parfois j'y ajoute des éléments reliés à la région de Montréal comme une sculpture de l'expo 67 sur la Mustang 1965, vue ci-dessus ou pour le dessin de la Mustang Bullitt, vue ci-dessous, le pont Jacques Cartier y fut ajouté.

It make Montreal's Bullitt movie fans ask this question... "What would be the ideal road path of the car chase similar to the one in the movie in the streets of Montreal"?


THE DRAWINGS
Ça fait se poser la question suivante aux fans de la célèbre Mustang, quel aurait été le parcours idéal d'une poursuite similaire à celle du film dans la ville de Montréal?


LES DESSINS
HOW THIS ARTICLE WAS BUILT
The very complex layout, begin by using a textured scanned paper. I place selected pictures of the cars to know how much space I can have to fit the text in between the cars.
The 1965, 1969 and 1973 were chosen to be bigger and have some more details included in the drawing like the front grill pattern on the 1965 GT and tire tread on the 1968 Mustang GT
LA CONSTRUCTION DE L'ARTICLE

Le montage, assez complexe, débuta sur un fond de papier texturé jauni. Des photos furent placées afin de déterminer l'emplacement et la grosseur des illustrations et de planifier l'espace occupé par les textes.

La Mustang GT 1965, 1968 et le modèle cabriolet de l'année 1973 ont vu leurs détails poussés davantage vu leur grosseur dans la page, comme sur la '65, le motif de la grille avant y fut dessiné et sur la '68, on y voit le patron de pneu.

Once the illustration done and put in place, I add some watercolor forms to separate the years visually and some splash to make the spread look like a drawing.
Some felt pen strokes was added like it's possible to see at the bottom of the front end of the red 1968 Mustang GT 428 hood that show's a black stripe and air scoop.
A good number of emblems were added to separate the generation of the Mustangs. A section is showing the evolution of the Mustang wheel drive at the bottom left of the spread.
At the top right, we can see the Mustang Mach 1 and the BOSS family cars that complete this illustrated article. Only the Shelbys are not present but they will probably done soon!

THE ARTICLE WITH ENGLISH TEXTS AND SOME CLOSE UP VIEWS
For the English version, I change the Montreal's Expo 67 sculpture by the emblematic one of the 1964 New York fair.
Une fois les illustrations mise en place, j'ai fait l'ajout de taches et formes visant à séparer les années de production ont été réalisées en aquarelle, un type de peinture à l'eau.
Du barbouillage au crayon-feutre à pointe flexible a aussi été intégré comme on peut le voir au bas du devant de la Mustang GT 428 rouge montrant une bande noire et une prise d'air.

Un bon nombre d'emblèmes ont été mis en page selon les générations. Une section montrant l'évolution du design des volants de la Mustang y a été réalisé en bas à gauche.

En haut à droite, on y aperçoit les Mustang Mach 1 et BOSS qui viennent compléter cet article illustré. Il ne manquait que les Shelby qui peut-être seront dessinnées lors d'une prochaine occasion.


L'ARTICLE EN VERSION ANGLAISE ET QUELQUES VUES EN GROS PLANS
Pour la version anglaise, j'ai remplacé la sculpture de l'expo 67 de Montréal et je l'ai remplacé par une emblématique de l'expo de New York tenue en 1964.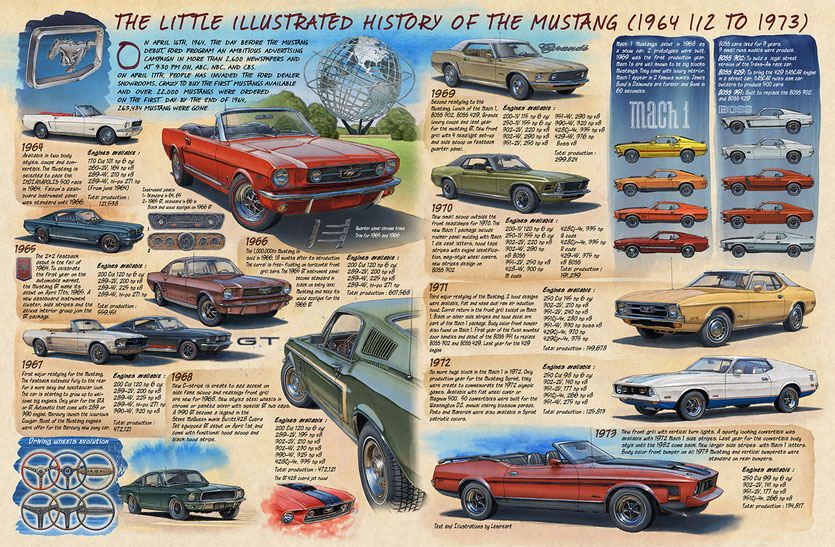 WOULD YOU LIKE TO HAVE THIS ARTICLE AVAILABLE IN DECORATIVE AIR PRINT?
Yes it's possible to order this article as a decorative art print. Read the specs down here!
Sizes available:
- 12 X 18 inches (30,5 cm X 48 cm)
   • Limited edition of 100 copies
   • Signed and numbered by the artist
- 20 X 30 inches (51 cm X 76 cm)
For the bigger size, you can have your Mustang year drawn in the body color of your car.
   • Numbered 1/1 because it will be the only one to have personalised body color
- Paper: Thick
- Print finish: Semigloss
- 30 days warrantee or money back
The print is ship roll in a tube in most country.
AIMERIEZ-VOUS  AVOIR CET ARTICLE EN AFFICHE DÉCORATIVE?
Il est possible de commander cet article de magasine en affiche décorative. Lisez les spécifications ci-dessous.

Dimensions disponibles:
- 12X18 pouces (30,5 cm X 48 cm)
   • Édition limité à 100 copies
   • Signé et numéroté par l'artiste
- 20X30 poucess (51 cm X 76 cm)
Pour cette dimension, il est possible d'avoir l'année de votre Mustang classic de la même couleur que voitre voiture.
   • Numéroté 1/1 dû à la personalisation de la couleur de carrosserie de l'année de votre Mustang
- Papier: épais
- Finition: Semi-lustré
- Garantie 30 jours ou argent remis
Le poster est posté roulé dans un tube dans la plupart des pays.
GET NOTICED ABOUT NEW AUTOMOTIVE DRAWINGS!
SOYEZ INFORMÉ DES NOUVEAUX DESSINS DE BOLIDES!