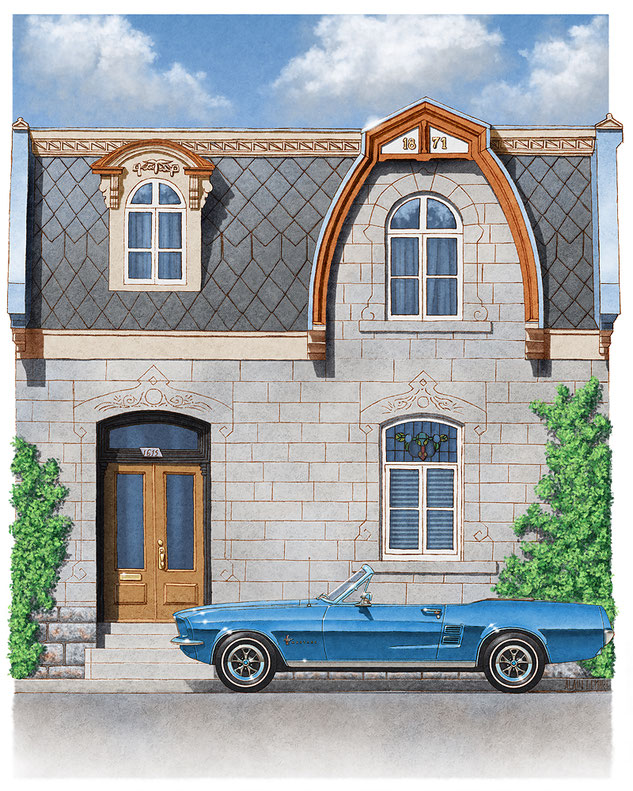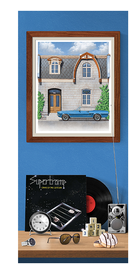 DESCRIPTION OF THE ARTWORK
This artwork show a frontal view of a Victorian house built in 1871 on 1615 St-André street in Montreal, Canada.
INSPIRATION FOR THIS ARTWORK

One day, I was walking in the streets of a Montreal's 19th century neighborhood. I said to myself that the house on the streets were beautiful and imagine having cars from another era in front of them.

I came up with this house and a Ford Mustang in front of it. I choose a light blue body color to catch the eyes.
ABOUT THE CAR
The car parked in front of the house is a 1967 Ford Mustang in convertible body style that is shown in profile view. It's a kind of car that was often seen in Montreal back in the 60's.

POSTAL DELIEVERY SPECIFICATIONS
- The image printed on paper and on unmounted canvas will be ship roll in a tube for shipping safety.
- A tracking number will be included for security.
- A signature will be requested on reception of the print.


SIZES OFFERED
- 12"X18" for art paper print only
- 16"X20" for art paper and art canvas print
Printed on tick semigloss paper or on artist canvas.
LIMITED QUANTITY AVAILABILITY
The work presented on this page is offered in limited edition, hand signed and numbered by the artist, giving the product, a greater exclusivity of possession.
AVAILABILITY BY SIZES
- The 12"X18" format is available in 15 copies.
- The 16"x20" format printed on art paper is available in 5 copies.
- The 16"X20" printed on art canvas is available in 5 copies.
NOTE:
The artist wishes to recall that this work is the fruit of a historical research. The production took a good number of hours. All printed art products are produced using the best material "giclée" printing technology available on the market today.
PAY WITH TRUST USING PAYPAL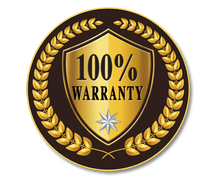 GARANTEE

Lemire Art.com offers a total 30 days satisfaction guarantee. If you are not completely satisfied with the product you had purchased on Lemire Art.com, please return it for a full refund.

The return of the shipping costs is the responsibility of the buyer. The product must be sent in its original packaging. The total amount is paid upon receipt of the returned parcel.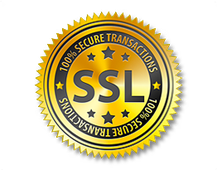 SECURE SITE SSL

An SSL certificate is a data file that binds a cryptographic key to information on a website.

Installed on a server, the certificate activates the padlock and the "https" protocol in web browsers, to ensure a secure connection. 
Generally, SSL is used to secure bank transactions, data transfer and connection information, such as usernames and passwords..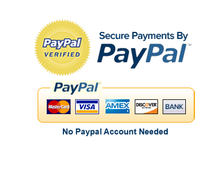 SECURE PAYMENT
PAYPAL is the reference in terms of secure payment.

LemireArt.com is a trade verified by Paypal, which indicates that Paypal has done research to confirm that the person is indeed the one that is identified in the Paypal database.

Paypal allows credit card payments without you having to open an account.
GET NOTICED ABOUT NEW CREATION OF THIS COLLECTION!