C A M A R O   P O R T R A I T S 
 AUTOMOTIVE ART FOR CAR OWNERS & ENTHOUSIASTS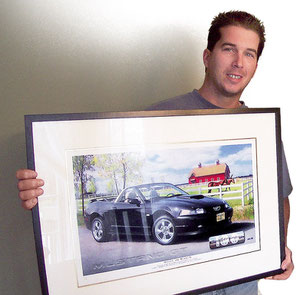 Since 2001, Lemireart.com has been offered 12"X18" limited edition prints to sport, muscle and classic car owners thru Ebay Motors.
We had a great inventory of cars as you can have a look by browsing pages on home page of the Lemireart Automotive Art Print site. All auto prints are available in all factory body and interior colors. 
We also offer a 14"X20" owner print with the car VIN and owner name written on the print. Personal touches like custom wheels, tire lettering changes, custom body color and stripes may also be done with extra cost.
The top left picture shows a proud 2004 Mustang GT 100th Ford anniversary special edition owner holding the framed print deliver by Lemireart. We added the 100 years of Ford logo on the print to custumize it to match the car feature.
It's possible to order some of those auto print online right here, on this web site.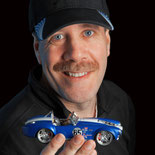 Since 2001, I have created fabulous artwork for the Lemireart Ebay Store. I also do other kinds of artworks like human portraits, landscape and wildlife art.

As a professional illustrator working for a book editor, I create approximativly 3000 digital illustrations from 1999 up to 2010. They were used in visual dictionaries and reference book and websites.

I hope to have you as a customer soon!
- Alain Lemire, CEO of Lemireart
From 2001 to 2013, we're been selling limited edition prints and owner prints on Ebay.

The main subject of the print were muscle, sport and classic cars.
To read Ebay feedbacks, click here.
MEDIAS AND EDITORS PARTNERS I HAVE PUBLISHED WITH