PORTFOLIO: STUDY OF AUTOMOTIVE PHYSIONOMY
 Publish on 2017-09-06, by Alain Lemire
THE AUTOMOTIVE PHYSIONOMIC STUDY IN PROFILE VIEWS OF CLASSIC CARS.

The drawings of car of type "study of automobile physionomy" in profile view serve to get acquainted with the volumes of an automobile body and will be used in other purposes, as in an acrylic painting.
This article presents 2 iconic cars of the 50's of which you can see in the 2 videos of the coloring stage done using colored pencils for professional illustrator during the realization of these 2 physiognomic studies. 
The 2 images show the look of a black line drawing. The Corvette 1953 seen up here is completed while the Ford Thunderbird seen below, has the wheel hub caps to be drawn to get the stage of the inking being ended.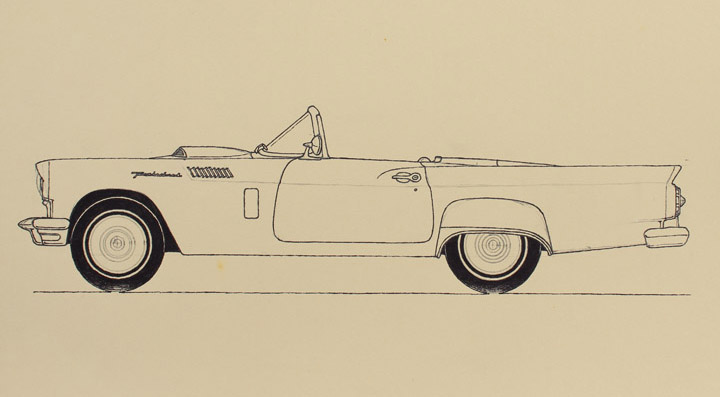 HOW IT IS DONE?

It is from profile view pictures that I begin the process of realization of such a study. Afterward, I draw the automobile freehand by means of a 0.5 mm lead pencil and measuring instruments. Wheels are drawn by using a compass. 

Once done, I use a black felt-tip pen with fine point over lines made by the lead pencil. Before applying the color, the still visible lines of lead pencil are erased.

Videos below show the stage of the coloring which is realized in these cases, by the use of professional Polychromos colored pencils by Faber-Castel.
THE FINAL RESULT

The result shows a well enough detailed automobile measuring between 9 and 11 inches (23 in 28 cm) of length. 

Such a study is not very long to make and allows to judge right proportions of the cars which I plan to use in future acrylic paintings with urban backgrounds and characters.
On a painting, a vehicle must be between 18 up to 28 inch long. This will give an highly and very accurate detailed car.
FEW OTHER PHYSIONOMIC AUTOMOTIVE STUDY DRAWINGS
Those 2 Alfa Romeo physionomic study drawings were done using the same techniques shown in the videos.
The image on the right will be used to create an acrylic painting artwork of an urban scene of an Italian restaurant located in St-Tropez, France.
To follow the progress of the creation of this painting, register to the newsletter at the bottom of this page.
GET NOTICED ABOUT NEW AUTOMOTIVE DRAWINGS!
SOYEZ INFORMÉ DES NOUVEAUX DESSINS DE BOLIDES!