PORTFOLIO: MUSTANG GT 1982-2016
MUSTANG GT (FROM 1982 TO 2016)
It was during of the creation of a comparative article on the Camaro Z28 and the Mustang GT from 1982 to 2015 that I realized these drawings of Mustang GT.
The article dealt with the respective stories of the development of the 2 "pony cars" in what would become the race 2.0 for horsepower from 1982 and especially in 2010 when the return of the Camaro.
Here below are the Mustang GT, California Special and Bullitt 18 drawings and their respective emblem that appear in the article published in 2015 in a virtual automotive magazine.
PORTFOLIO OF MUSTANG GT DRAWINGS (click the image to see it bigger)
PARTIAL RESUMPTION OF THE ARTICLE IN A CLASSIC CAR MAGAZINE
In 2018, the VAQ's magazine l'Auto Ancienne saw a partial resumption of the publication of the article with the 1982 section.
Take a look at the pictures below to see how it looks in the magazine.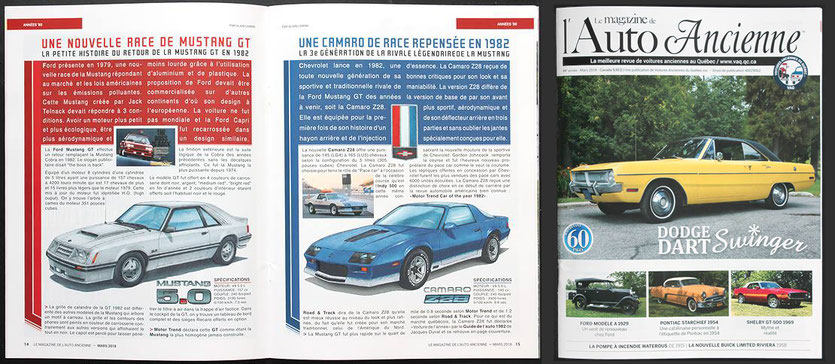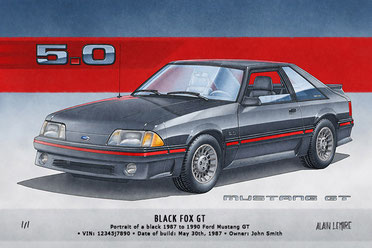 ANOTHE USE OF THOSE DRAWING
Since the winter of 2016, another use of these drawings was made. They have been redrawn in larger format and in a more detailed way to offer them in limited edition or customized art prints.
GET PERSONALIZED
The personalized art print gives you the possibility to add your car VIN, the production number of various limited or special edition Mustang GT, the date of build and owner name.
To see this collection of Mustang printed drawings, click here.
GET NOTICED ABOUT NEW AUTOMOTIVE DRAWINGS!