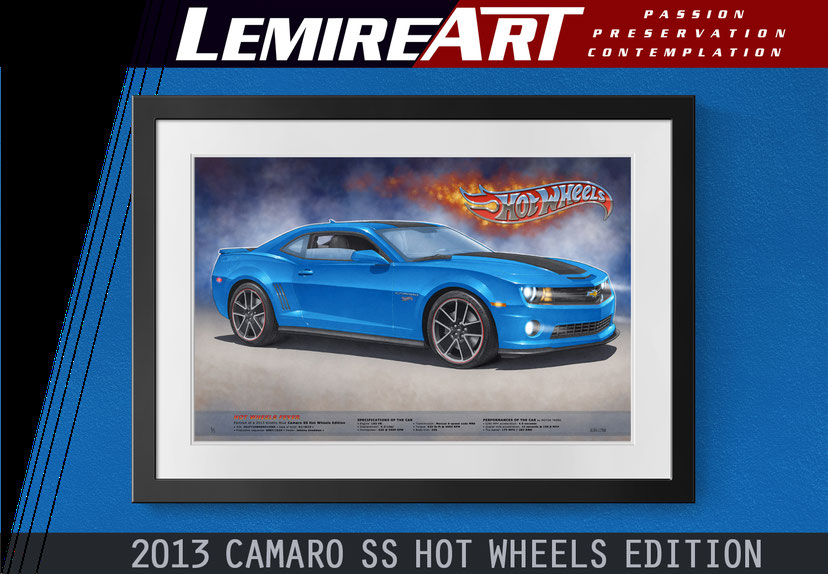 HOT WHEELS FEVER
PORTRAIT OF A 2013 CAMARO SS HOT WHEELS EDITION
 • Limited edition art print 12X18 in.: US$50/CA$60
• Personalized art prints 12X18 in.: Starts at US$70/CA$85
• Personalized art prints 14X21 in.: Starts at US$90/CA$105 
• Personalized art prints 16X24 in.: Starts at US$140/CA$160 
  ARTWORK PRODUCTION PROCESS
SPECIFICATIONS:
Size: 12" X 18"
Signature on the print: Yes
Numbering on the print: Yes
Certificate of authenticity: Yes
HOT WHEELS logo in the background: No
Shipping: Rolled in a tube
Note: This print is signed and numbered by hand in 25 copies per factory body and strips colors combination.
SPECIFICATIONS:
Sizes available: 12"X18", 14"X21", 16"X24"
Signature on the print: Yes
Certificat d'authenticity: Yes
HOT WHEELS logo in the background: Yes
Shipping: Rolled in a tube
Note: The owner's edition print is signed and numbered 1/1, because it's the only one to have your car infos written on your print.
NOTE ABOUT PERSONALIZED PORTRAITS:
• The custom edition is signed and numbered 1/1, being the only one to have the serial number of the car, date of manufacture, date of purchase and the owner's name written at the bottom of the printout.
For all requests of last minutes of purchase, you can contact me:
T: 514 528 8908
IMPORTANT NOTICE
Paypal buying is currently unavailable at the moment!
To buy this item, send an email to know when it will become available again at info@lemireart.com
POSTAL AND HANDLING FEES
• Shipping cost to send the print to the USA using the US Post service is US$15 and it's not included in the price.
• Shipping cost to send the print within Canada using Canada Post service is CAD$17 and it's not included in the price.
  MY FIRST CONTACT WITH THE CAMARO SS HOT WHEELS EDITION
It was during the memorable commemoration of the Camaro 50 years that I first saw the interesting 2013 Camaro SS Hot Wheels Edition.
It was an event held in a shopping center and for the first time since the exhibition, an outdoor section was organized where visitors could see a model with Lamborghini doors.
  ORDER FROM A 2013 
CAMARO SS HOT WHEELS EDITION OWNER
- Christian Philippe that I met at the Valleyfeild car show in September 2018, was the first owner to order an automotive portrait of this model.
It was while passing in front of my booth that he told me! Hey, take my car in picture! I want you to draw it!
SHOP WITH TRUST ON THE LEMIREART STORE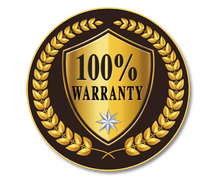 GARANTEE

LemireArt.com offers a total 30 days satisfaction guarantee. If you are not completely satisfied with the product you had purchased on Lemire Art.com, please return it for a full refund.

The return of the shipping costs is the responsibility of the buyer. The product must be sent in its original packaging. The total amount is paid upon receipt of the returned parcel.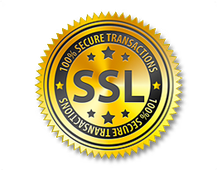 SECURE SITE SSL

An SSL certificate is a data file that binds a cryptographic key to information on a website.

Installed on a server, the certificate activates the padlock and the "https" protocol in web browsers, to ensure a secure connection. 
Generally, SSL is used to secure bank transactions, data transfer and connection information, such as usernames and passwords..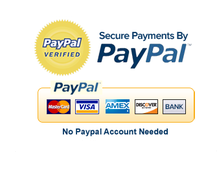 SECURE PAYMENT

PAYPAL is the reference in terms of secure payment. LemireArt.com is a trade verified by Paypal, which indicates that Paypal has done research to confirm that the person is indeed the one that is identified in the Paypal database. Paypal allows credit card payments without you having to open an account.
SHARE THIS PAGE ON YOUR FAVORITE SOCIAL NETWORK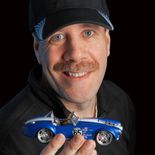 Since 2001, I have created fabulous artwork for the Lemireart Ebay Store. I also do other kinds of artworks like human portraits, landscape and wildlife art.

As a professional illustrator working for a book editor, I create approximativly 3000 digital illustrations from 1999 up to 2010. They were used in visual dictionaries and reference book and websites.

I hope to have you as a customer soon!
- Alain Lemire, CEO of Lemireart
From 2001 to 2013, we're been selling limited edition prints and owner prints on Ebay.

The main subject of the print were muscle, sport and classic cars.
To read Ebay feedbacks, click here.